Full Console and Umbrella Mount
The RV2L has a large console tray with mesh storage net underneath for handy storage, elastic score card holder and pencil holder on the tray.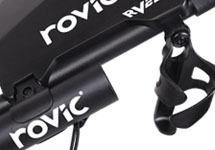 Clicgear Accessory Tabs
The RV2L has three handle mounted accessory tab mounts to fit any of the universal Clicgear accessories available, and come standard with cupholder and umbrella holder.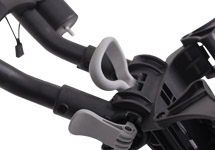 Lock Ring
Automatic folding and unfolding lock.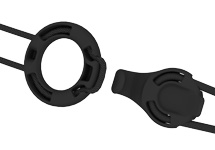 Easy Clip Bag Straps
These new Clicgear designed bag straps are easier to adjust and more secure. They work great with any size golf bag.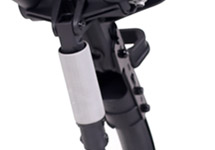 Saddle Adjust tube
Adjusting saddle position.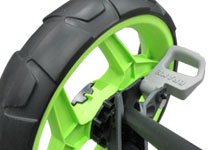 Foot Brake
The RV2L has a simple to use and maintain foot activated brake. Provides positive on/off braking.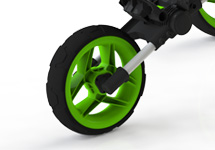 Adjustable Tracking
The front wheel offers fully adjustable tracking to keep your cart going straight.