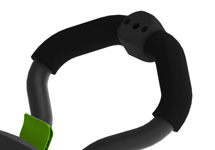 Standard Umbrella Mount
The RV3J uses the standard Clicgear umbrella mount allowing the addition of multiple accessories.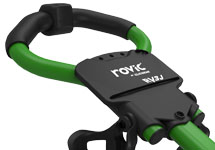 Score Card Console
The RV3J uses its own compact and adjustable score card console with pencil and card holding straps. Also has two handy Clicgear Accessory Tabs underneath as well.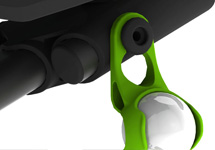 Ball Clip
The included Clicgear Ball Clip makes it easier to store a sleeve of balls for each game.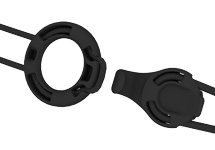 Easy Clip Bag Straps
These new Clicgear bag straps are designed to be easier to adjust and more secure. They work great with any size golf bag.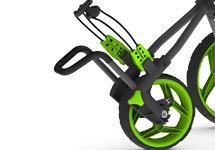 Adjustable Bag Support and Wheel
The lower bag support can be adjusted to provide a more stable base for leaving the bag on when folded. The front wheel can also be easily adjusted to correct the alignment.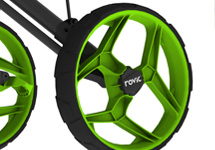 Oversized Rear Wheels
The 13" (330mm) rear wheels of the cart are slightly larger than standard cart wheels to provide a smoother push on the course.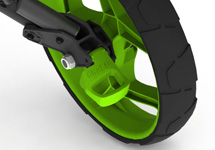 Foot Brake
The RV3J has a simple to use and maintain foot activated brake. Provides positive on/off braking.